Our Board works closely with our CEO and senior staff to guide their decision-making on strategic issues and hold them to account for their leadership of the organisation. The Board is made up of the CEO, trustees and advisers with all having an equal say in activities and the decision making process with respect to running daily activities. Where decisions affect the future of the organisation the trustees are ultimately responsible in law for the charity, its assets and activities and so take those key decisions.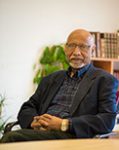 Talat Shaikh
Following a successful career in the IT sector, Talat moved onto join numerous charitable organisations at a board level including groups such as Enfield Racial Equality Council amongst others.
Talat sees MCEC becoming a leading Islamic institution in the UK and having a strong presence in promoting education abroad where it is needed most.

Sabir Shaikh
MCEC started in the mid 1990s in a hut in Sabir's back garden. Since then to today, Sabir has been the energy behind MCEC's continued success and growth.
As well as looking after the daily facilities management function, he is also the Funeral Director for the centre.

Shappir Alim
A project director for a multinational technology company, Shappir took on the role of Treasurer in 2016.
Having been involved with MCEC since 2006, he also  provides oversight to the team of Content creators and Social Network administrators who work on MCEC's Web presence.

Yasir Shaikh
A structural engineer by trade, Yasir is a Co-chair and Secretary for MCEC's Board.
He is heavily involved in Greenstars, the youth function of MCEC and provides valuable guidance on planning and development for the centre.

Saif Ahmad
Saif Ahmad joined the MCEC board in 2011 and soon became a trustee.
Saif brings many years of experience in the NGO and development sector. He has been a CEO for numerous UK charities and brings that understanding of how the UK charitable sector operates and how things can be scaled up in an efficient and transparent manner.

Saqibah Sheikh
Saqibah joined the MCEC board in 2011 and became a trustee in 2016. She is a Co-Chair for the board
She brings her professional experience as an HR Director to MCEC and is active in numerous activities including leading the panel on charitable projects.

Dr Husna Ahmad
Dr Husna Ahmad, OBE is the CEO of Global One and has been a Trustee with MCEC since 2016. Holding a PhD in Environmental Law from the School of Oriental and African Studies at London University, Dr Husna is a published author on faith and the environment. She is a board member of various charitable organisations and acts as an advisor to East London Mosque. She is the creator of the Women's Water Sanitation and Hygiene Networks and often speaks at international events.

Dr Samad Billoo
Dr Samad Billoo joined the MCEC board in 2016.
Aside from his daily work for the London Ambulance Service, he is a Trustee at Health And Nutrition Development Society (HANDS) International who MCEC work closely with when working on emergency medical aid for disaster-hit regions and with the refugee crisis in Europe.