Fahad Khaliq, one of our Green Stars volunteers and avid Green Stars Cycling Club member gives his account of a gruelling 60km bike ride for Tour de Salah.
I always wanted to take part in Tour de Salah (a cycling challenge organised by an Islamic charity. Salah translates to 'prayer') since its launch a few years ago. But it would usually coincide with when I'm abroad (and no, I wasn't booking holidays to evade the challenge). This year I eventually embraced the challenge as well as embarking on my first ever fundraising for charity – to raise donations for Al Mustafa Welfare Trust's eye restoration programme which works to cure and prevent blindness in third world countries.
The 60km Cycling route, distance and time

Initial mental barriers
I had no excuse to not take part in the cycling challenge given that I profusely enjoy cycling – over short distances and going downhills, I should add. Yet I found nerves and anxiety kicking in leading me to procrastinate over whether to sign up for the challenge. I found the fear of fundraising towards my own set target more horrifying than the physical cycling challenge. Then I reminded myself of a reassuring and calming question to ask myself – what's the worst that can happen?
Fundraising challenge
Once I signed up, to my surprise, I found a new buzz within me. I felt eager when creating my fundraising page. As I started to share my page and ask friends, families and colleagues for the support I felt my initial nerves evaporate.
People responded effusively and espoused the cause I was fundraising for. It was encouraging to hear from various people that they 'wished that they could have been the first to sponsor me'. I also received hilarious remarks such as 'could you not think of better and less brutal ways to fundraise' and 'better you cycle around London than me'.
The most heart touching aspect of the challenge was people's generosity. I was humbled when people swiftly responded to sponsoring me. I quickly realised that my perceived 'ambitious' target was derisory and would be blown away. People's unbridled generosity led me to uplift my fundraising target repeatedly. In the end, I raised, thanks to all my friends, family and colleagues, 6 times more than my initial target; and had more than three times the number of sponsors than I had envisaged.
Cycling training
With the enduring challenge awaiting me, I knew I had to build my stamina. I had around 5 cycling training sessions to get ready for 60km. I started training with a few friends and joined a newly formed cycling club 'Green Stars' which is opened to all and part of Palmers Green (north London) Mosque and Community and Education Centre.
For the training, we covered town roads, country roads and climbed hills (I didn't like the latter). After the rides, I'd naturally be physically exhausted. However, a greater challenge than the cycling was the sacrifice of my morning lie ins on weekends (it's super painful waking up on a Sunday morning but on the other hand we'd face clear roads with few cars – a haven for cyclists).
Cycling Challenge Day i.e Judgement Day
Around 130 people, from all backgrounds, ages, fitness levels, took part in the cycling challenge ride across 4 categories (15km, 30km, 60km and 100km). When I arrived at the departing point (Palmers Green Mosque) I was aroused by seeing the flotilla of bikes, it felt like being a kid in a candy shop. The organisers (Amy, Amjad, Glen, Andrea amongst others) briefed all participants on cycling as a group and the do's and don'ts to ensure the safety of not just us but also the public.
We (the 60km group) departed Palmers Green, North London at 11 am, returning back around 5.30pm (on the same day!). The first big challenge of the ride was a few kilometres into the ride when we climbed the notoriously steep hill in Alexandra Palace. At the top, we were rewarded with the beautiful views of London.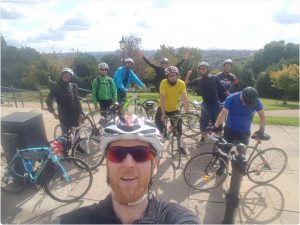 Next, we rode towards Westminster. I felt like a tourist cycling past London's top attractions and beautiful buildings including cycling across Tower Bridge on our way to the first stop at Southwark Mosque.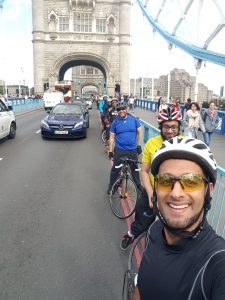 After a snack and prayer break, we then rode towards West London. The route involved crossing Lambeth Bridge, cycling through Green Park passing Buckingham Palace and onto Hyde Park. Our next break including lunch was at Harrow mosque. Following this, we headed back to North London where we had to face a few hills en route.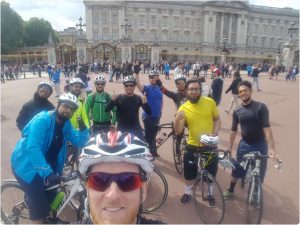 Although 60km is a long distance, the cycle ride did not feel banal nor insipid. The various types of roads, scenery and attractions kept me exhilarated. Arriving back at Palmers Green, there were photographers and videographers awaiting us. The organisers beautifully wrapped up the day with a closing ceremony.

The organisers had emphasised that this was not to be a race, rather a ride. I thought they were showing a little hubris and wondered to myself how could they constrain a group of men (and possibly some females) from following their competitive drive and not embroiled in a full out cycling battle across London. Yet, the organisers did a superb job by providing a group leader and group facilitator to keep the ride orderly, safe, friendly, provide support and meticulously ensured every participants' needs were met. The organisers provided snacks and lunch at break spots and a meal at the end of the cycle ride.
Overall experience
My first ever experience of a being a challenge fundraiser was humbling, exciting and most importantly enjoyable. The demands, determinations and achievement of completing both the cycling and fundraising challenge led to self-fulfilment.
Thanks to all my family, friends and colleagues I raised over £2,000 via around 65 sponsors; and Green Stars cycling club who supported me in building my fitness to meet the challenge.
I would encourage all readers to get on their bikes and participate in future Tour De Salah rides and to not underestimate the support of those around you. If you are passionate about a cause, most people will contribute towards helping you to achieve your goal.