Insha'Allah Eid-ul-Fitr will be on Thursday 13th May 2021. There will be Tarawih prayers on the evening of Tuesday 11th May 2021.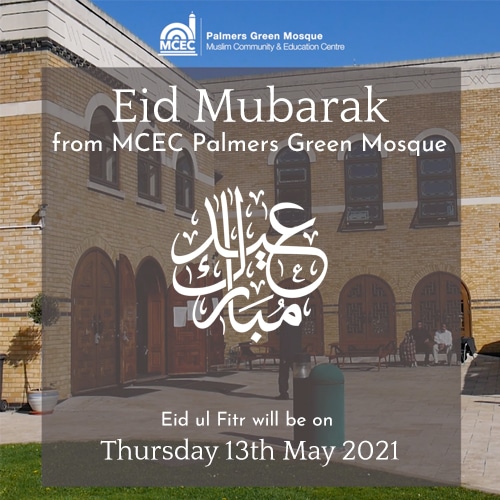 Eid Prayers
All Eid Jamaat tickets have been booked. Ticket holders will be given priority entry. Latecomers may be required to pray outside, with a risk of rain forecast.Non-ticket holders will be given entry once all ticket holders have been admitted, only if there is space.
There may be cancellations so please check here to book those cancelled tickets. The Eid Prayer Jamaat times are
06:30
07:45
09:00
10:15
11:30
Zakat al-Fitr
Jazak'Allah khayran to everyone that has supported the Mosque and Centre throughout Ramadan, with your donations and pledges.
This year's Zakat al Fitra is a minimum of £5.00 per person. You have to pay this amount before you pray your Eid Prayers. The money given will is distributed to the most in need around the world. Please donate in person at the masjid.
Eid is a time to continue further on the path towards spiritual development, through the recitation of the Qur'an, dhikr of Allah and reflection. Eid ul-Fitr marks the conclusion of fasting in the month of Ramadan.
We remind our congregation that the Prophet (PBUH) said: "Whoever fasts Ramadan and follows it with six days from Shawwal it is as if they fasted the entire year." (Sahih Muslim)