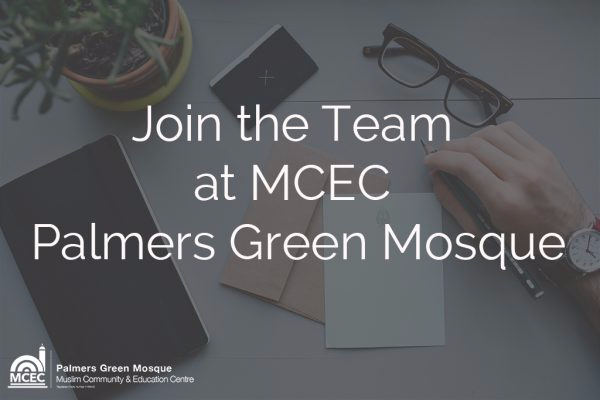 We are looking for an experienced UK (ideally London) based Imam/Hafiz of Quran to lead Taraweh prayers throughout the month of Ramadan.
Full Job Description here
Job description:
Being the 2nd Imam for Ramadan Prayers; Second Ten Rakaats of Taraweh with one support Imam for the 1st 10 Rakaats, and lead Tahajjud prayers in the last ten nights only, lead full 20 Rakaats if only needed and if asked by management.
Responsibilities include
To be present in the Masjid before Isha prayer.
To lead Isha [if asked for], first or second 10 Rakaats of Taraweh and Witr prayers.
To stand behind/provide reasonably needed support to 1st Imam throughout the 10 rakaats led by 1st Imam.
To maintain harmony in Mehrab/cooperate with other Imams.
Agree in the beginning of the Month on start-end verses and have equal portions of the chapter recited every night by both the Imams, i.e 50-50.
Qualification required:
Desirable to be educated to degree level or equivalent OR a professional qualification in Islamic Studies
Experience:
Proven track record of Leading Taraweh prayers, minimum of 3 years.
Experience of working with the Muslim community
Desirable to have experience of leading Jumaa or Public Speeches
Skills
An ability to explain the Islamic faith in an understandable and relevant way for the worshipers
Ability to motivate, enthuse, develop & support young Imam
Confident public speaking and presentation skills
Good interpersonal skills with the ability to network and establish links and partnerships with all relevant colleagues
Strong organisational and time management with the ability to plan and prioritise a diverse workload
Knowledge Understanding of Muslim communities
Knowledge of Quran, Fiqh & Tafseer
Commitment
Commitment to the aims and objectives of MCEC
Willingness to sometimes work out of hours as needed
Remuneration:
Negotiable.
How to apply:
Please send a letter of application detailing how you meet the person specification PLUS your CV to [email protected] (Closing date: Midnight 31st January 2022)